Today the mountain range of about 120 kilometers (74 miles) between Austria, Bohemia and Bavaria is known as "Bohemian Forest", "Šumava" and "Bavarian Forest". During the middle ages trade routes led through a tight primeval forest and connected the Austrian "Salzkammergut" to Bohemia which lacked salt. The first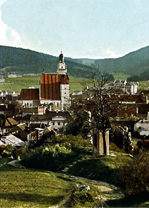 settlers from Bavaria were called by monasteries and nobility to come to Bohemia, they lived on the rich lumber reserves, small farms, basic agriculture and glass production. Various castles and towns are proof of the extensive commercial activities, but also of conflicts between the royalty and nobility, which culminated in the Thirty Year´s War.
Despite the sparse resources and a very inhospitable climate, the colonization reached an altitude of more than 1000 meters (3300 ft). In 1945/46 the Czech part of the Bohemian Forest was depopulated to a large extent and big regions were cut off from their neighbors, becoming forbidden military areas. Many villages disappeared completely, but the unique natural landscape remained and is now protected by cross-border national parks, which also allow for a development of soft tourism within the common "green roof of Europe".